Timelogix Time & Attendance System
Cloud Platform | Easy to use and Intuitive | With a fingerprint or Card | Remote Logging with Geolocation | Easy Management and multiple reports | Low Cost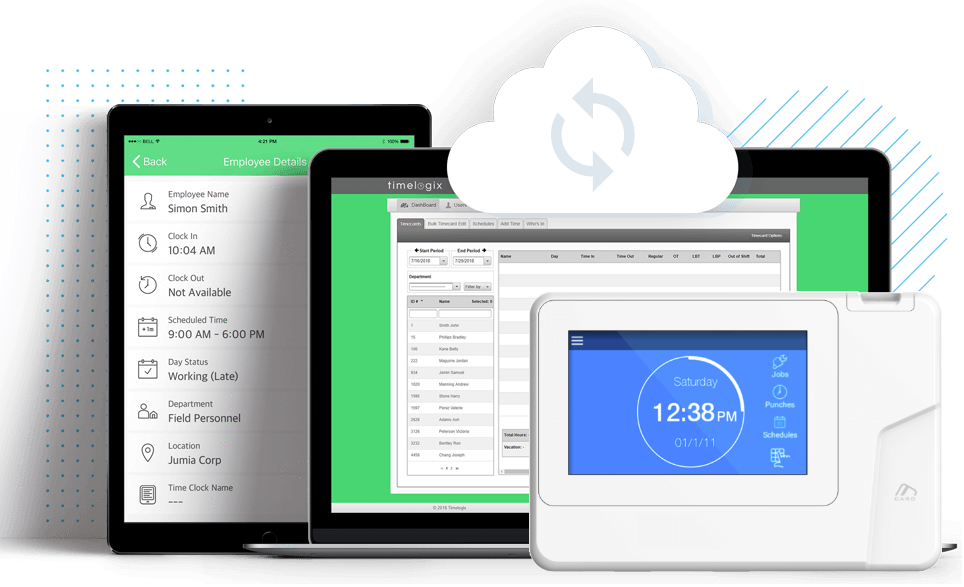 Our time and attendance system allows you to store the records required by the new regulations for 4 years.
It all starts with the time clock
A Time & Attendance system with all the details you need to collect employee time data quickly and accurately and communicate with our software in real time.
With our Plug and Play technology, you can be up and running in minutes.
We've covered the ability to collect and transfer data from the clock to the software in real time for quick management.  With that in mind, we added all the features you need to manage your employees' time and attendance. It's an easy-to-use, intuitive and low-cost solution.
This mind-blowing user interface allows you to process time data and do payroll in an instant.
Cloud Time & Attendance solution for your business
When clocking in via mobile phone, it is possible to restrict clocking in to certain locations.
In addition, the clocking in can be recorded and the mobile phone can output the location and photo of the employee.
The administrator will be able to view the latest clockings at a quick glance on the control panel and know with which device the registration was made (mobile phone, PC or biometric terminal).
Management of calendars, holidays, absences, doctors and regular schedules in a simple, visual and intuitive way.
Database with user information and characteristics:
Employee portal access
Time and attendance forms permissions
Time and payment application.
Multiple reports:
Attendance
Planning
Incidents
Customisable with the company logo
Customisation of the necessary information for the client.
All 10 handprints can be captured to avoid problems.
The user can be enrolled via the cloud or via biometric terminals.
Say goodbye to redefining or importing/exporting data to a separate payroll application.
It is compatible with the most popular payroll systems:
Sage, ADP, SAP, EasyPay….
Allows you to export files that integrate seamlessly with payroll systems.
With your APP you can clock in, view the hours worked or the planned schedule.
Time & Attendance
Fingerprints, EM RFID
1.000 recordings / 10.000 fingerprints
Wifi, TCP/IP, USB and Wiegand
Optical fingerprint sensor
+
Time-Logix cloud software
FROM 1,99€/LICENCE/EMPLOYEE/MONTH (+VAT)
Shall we talk?
We invite you to discover the most advanced security solutions.